New Year's Eve 2017, Cuenca, Ecuador
We celebrated our sixth New Year's Eve in Ecuador, all but one of which has been in Cuenca (in 2015, we checked out Salinas).  It seems that every year in Cuenca, the event has gotten smaller, and tamer. In 2012, there were half a dozen large staged exhibits in el centro, while this year we only saw three: one on Juan Montalvo, a second on the corner of Padre Aguirre y Juan Jaramillo and the largest at Iglesia El Vergel.
As with every year, there were exhibits with large monigotes (paper mache dummies) in displays showcasing the past year's events.  The Amistad Club and Union of Journalists of Azuay organized a competition in which 27 neighborhoods registered this year. Many scenes poked fun at political figures and events, and this year the targets were Jorge Glas, the Odebrecht scandal, Trump, Transvia, Cabrera, Correa, and other politicians.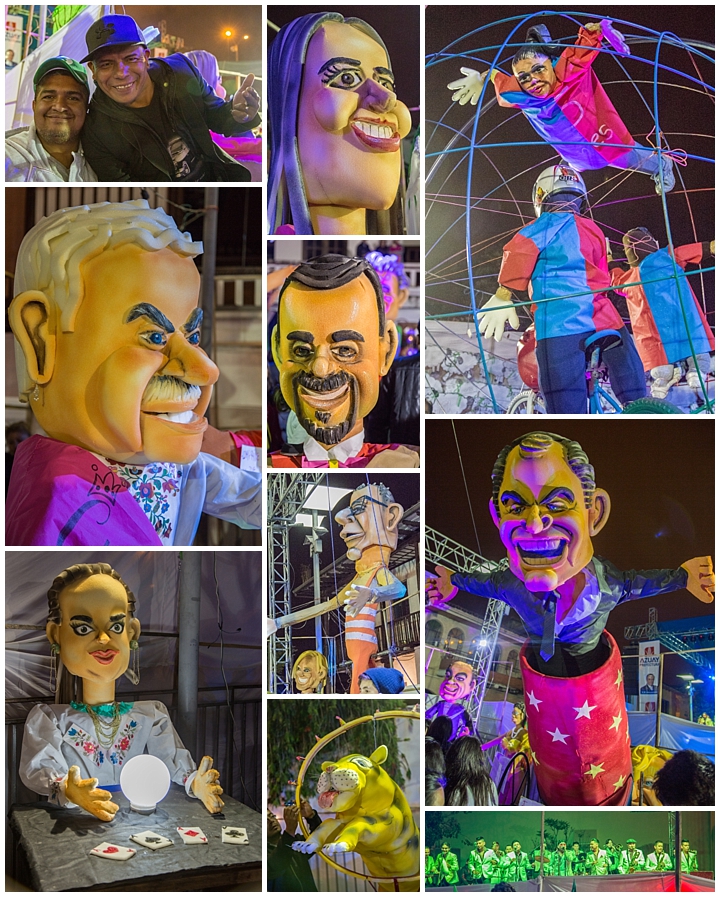 The clowns from Club Amistad act as the jury, riding between exhibits in the back of a truck, often accompanied by a fire engine, to judge all the exhibits. The winner this year was "The Antisocial Circus"at Iglesia El Vergel (above). 4th place was awarded to El Vado "All you need is Cuenca" (next photo block).  All were destined to be incinerated at midnight.
Iglesia El Vergel always has a large creative exhibit (above).  This year it was behind a barrier. People were standing in a very long line to get in to see the exhibits and to listen to the band (lower-right).  There was no way I was going to stand in line a couple hours to see it, so figured we would skip the display this year.
Of course, if you have ever traveled with Evelyn, you would know how silly an idea that was...  She walked around to the exit, talked nice to two guys guarding the exit (upper left), who then let us in the back door... ☺  There was a full band playing on stage (lower-right).  As usual, these were some of the best monigotes we saw that night, and were declared the winner of the Amistad Club's annual competition. Correa was displayed being fired out of a canon, to symbolize his leaving the country (middle-right).
Trump was shown in a coffin being sawn in half by a Paul Carrasco, the Azuay Prefecta (essentially the governor of our state).
NOTE: This image credit El Mercurio. By the time we arrived, the crowds were so thick, we could not get an overall view like this.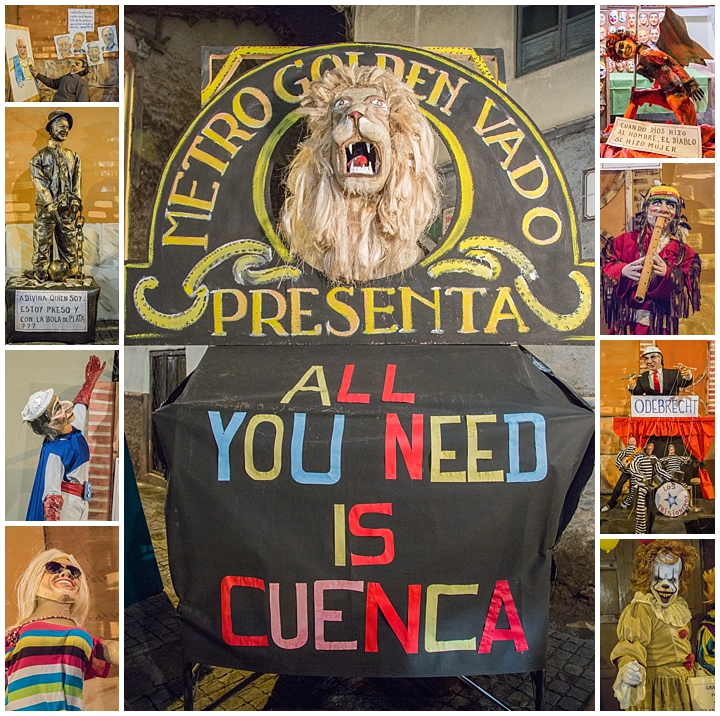 There is one block on Juan Montalvo that is always packed with themed displays the last couple years.  This year they won 4th place in the overall city competition.
The center image above shows the large crowds trying to see the displays at Calle Juan Montalvo y Cordova. Other images here are of smaller side celebrations by families.
Midnight is when all the effigies are thrown into a fire.  There are organizers that throw in the larger dummies at a rate to keep the fire under control (middle-left), though individuals toss in their own smaller dummies whenever they wish (top-center and lower-left), while the audience watches the burn (top-left and center).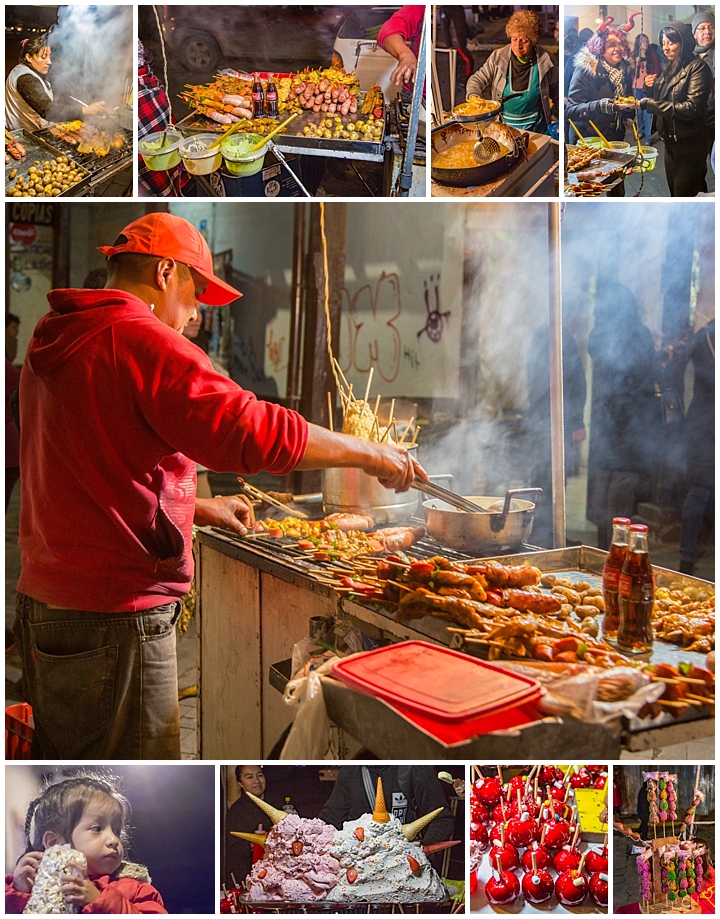 Street food is always available at any of these festivities, and this was no different.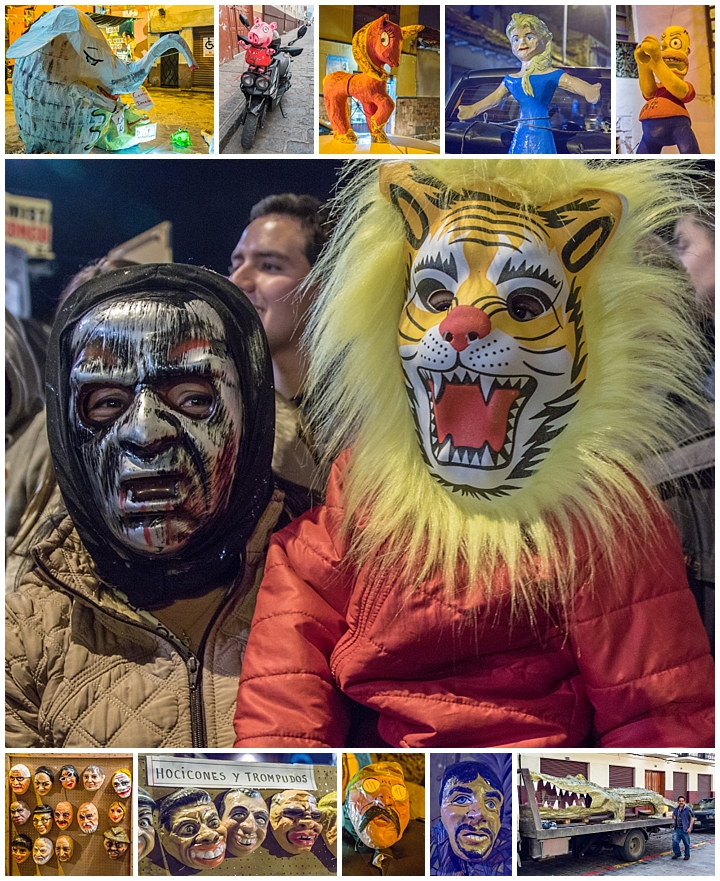 While most of the effigies this year were of humans, there were a few exceptions seen around town (top row and lower-right).  Evelyn stepped out of our apartment in the morning to get a newspaper, and saw the large crocodile being loaded onto a flatbed truck. It had taken the family 2 months to create, and was scheduled to meet up with King Kong at a local school, before being burned at midnight.
There were also plenty of masks to be bought for the audience to wear.  Displays along the bottom row show a few of the choices, while the center image shows a father and son each wearing a mask they bought earlier in the evening.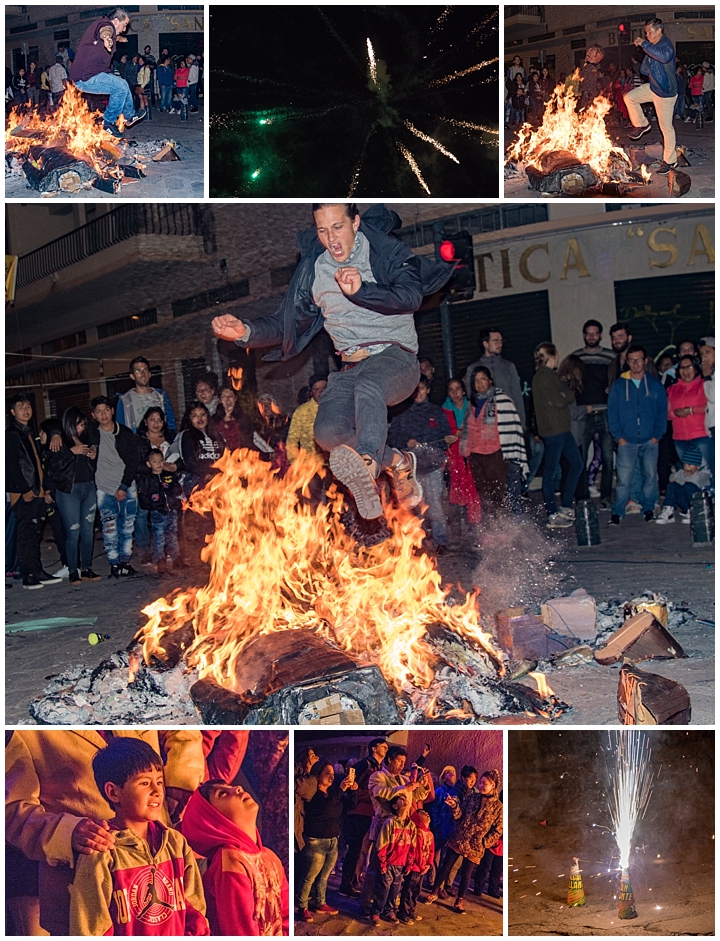 It is a tradition to jump over the fire three time for good luck.  The local hospitals report New Year's Eve as their busiest night of the year, as people miss their jump, or rise over the fire just as an embedded firecracker explodes... ☺
That is also the time when fireworks start being fired seriously (upper-center), while others place their own Roman Candles on the ground next to the fires (lower-right).  Some of the audience can't decide which of the fireworks to watch (lower-left and lower-center).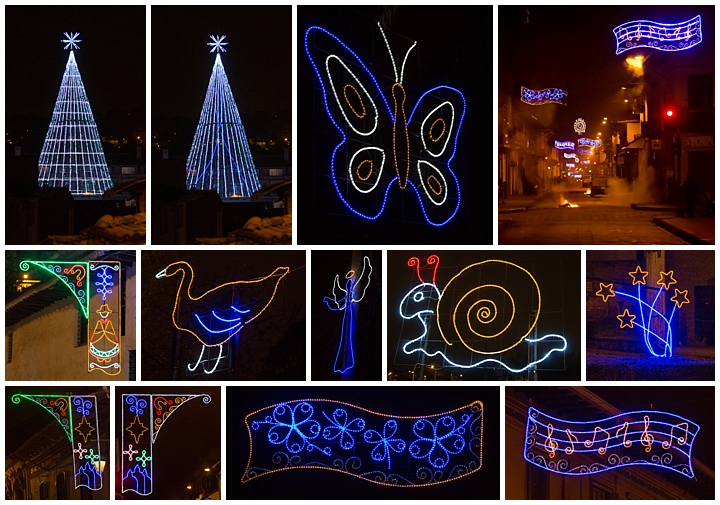 The city is trying to liven the atmosphere with more holiday lights every year.  Each year we are told the light count has gone up, as the prior celebration's lights are brought out of storage and new ones are purchased to add to the mix.  This year there was also a 100 foot tall tree made entirely out of light added at Otorongo Plaza (upper-left two images).  They rotate through a range of colors and patterns.

New Year's Eve 2017 Cuenca, Ecuador from Burt Johnson on Vimeo.
Here is a short 2 minute video giving a flavor of the Big Flame in el Centro, and various people throwing in their own effigies, dancing, plus jumping over the flames at midnight.
---
---