Dubai, UAE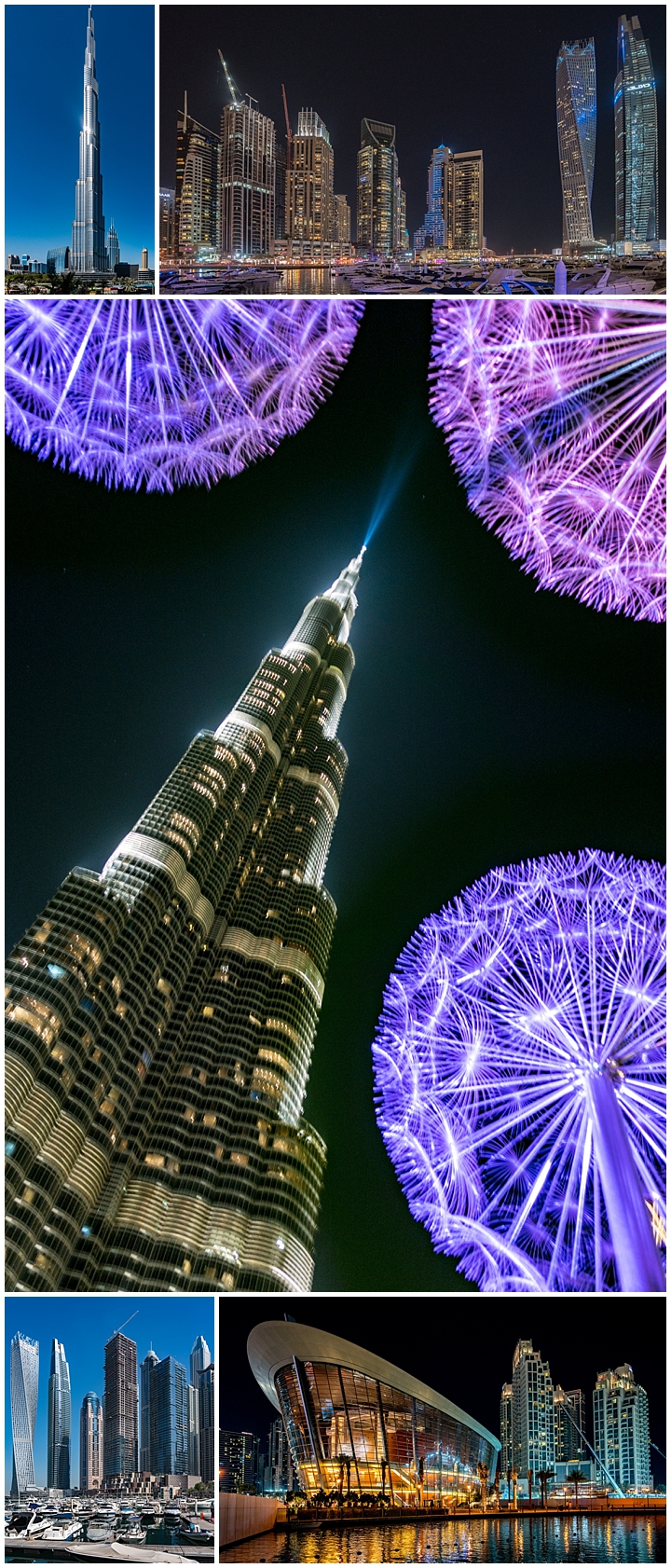 THE BIGGEST!  TALLEST! THE MOST GRANDEUR!  Over-the-top in everything!
That is our first impression on entering Dubai -- and that feeling never leaves you as long as you are here. The tallest building in the world is here -- the Burj Khalifa at 163 storeys high ("Burj" means tower in Arabic, so there are a lot of buildings with name Burj in town), seen top-left and center.  And the skyline puts any other city in the world to shame. This is not a city of straight blocks soaring into the sky.  Rather, the Dubai government gives preference in building permits to any structure that is unusual with envelope-pushing architecture.  That gives you the twisting towers (lower-left and upper-right), the crazy offset, stacked buildings, soaring beacons, as well as the elegant shape of the Opera House (lower-right), among many others.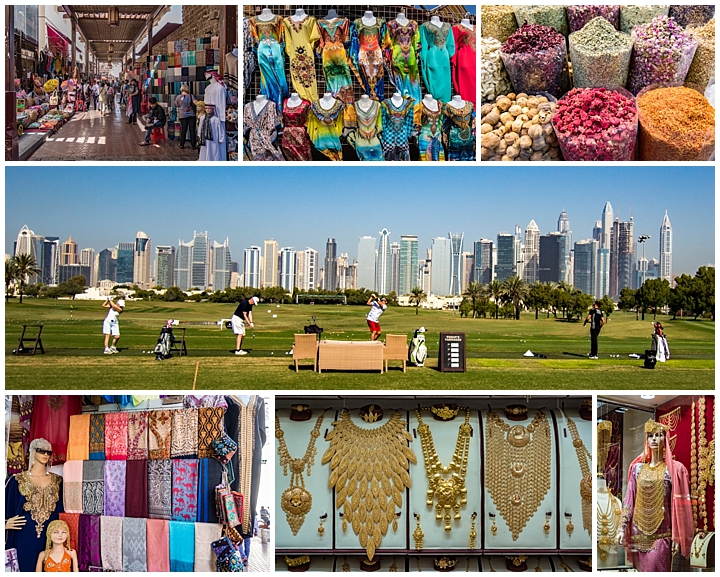 Dubai is known as a shopping mecca, and many wealthy people fly in from other countries for quick trips to the many malls. There is an entire shopping souk  just dedicated to gold jewelry, with gold pieces that could only be worn in parties of the wealthiest circles in the world (lower row). There is even a diamond so large as to be listed in the Guinness book of records.
Visiting the local golf driving range not only gives you a chance to improve your game, but also provides a impressive panorama of the city skyline (center).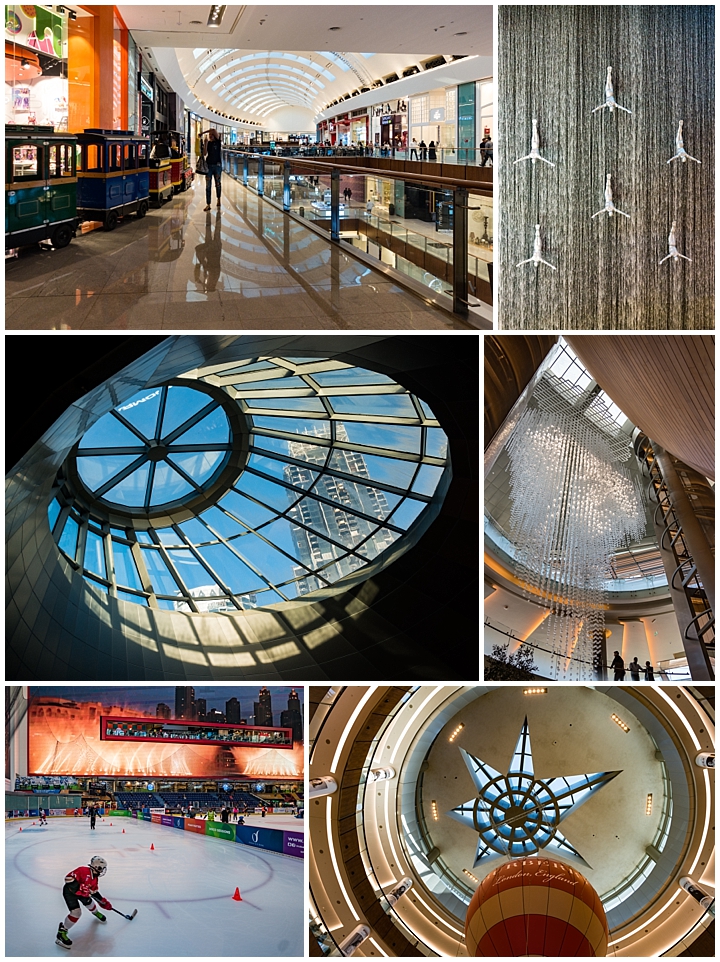 We only visited two shopping malls(out of 90), and found it as magnificent, and over-the-top as we had come to expect by this time. One entire floor was dedicated to stores catering to children and expectant mothers. A very small portion of the lower floor held a skating rink, where we saw a team practicing, along with dozens of families enjoying themselves. (The rink was actually quite large, but only occupied a tiny portion of the floor -- the mall is that big...!) Then, another mall had an enclosed ski slope, with ski instructors from Austria.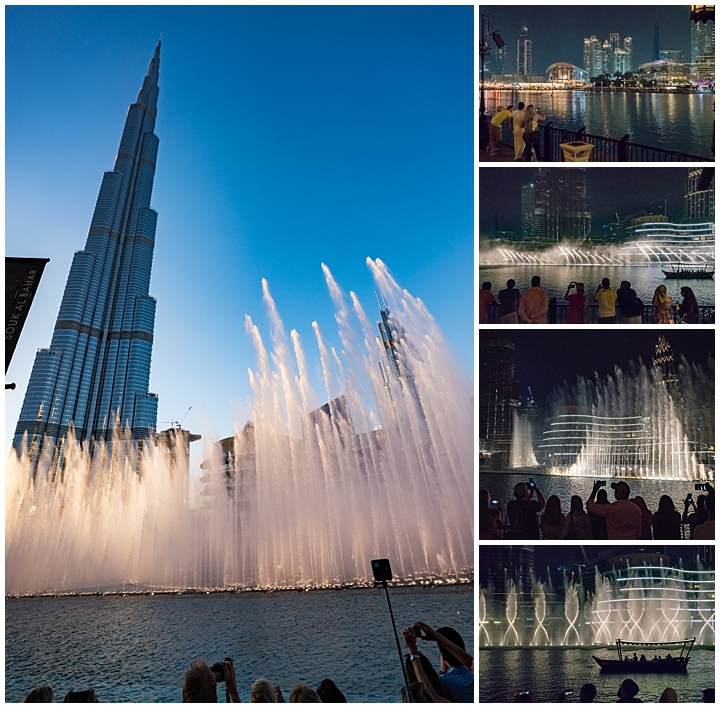 The Dubai Fountains came to life each night around sundown, and continued with a different show every half hour until midnight. This is very similar to the fountains at Bellagio in Las Vegas and in Yerevan, Armenia (our review of that fountain here). The entire show could even been seen from our hotel balcony. A video of it will be included in tomorrow's post.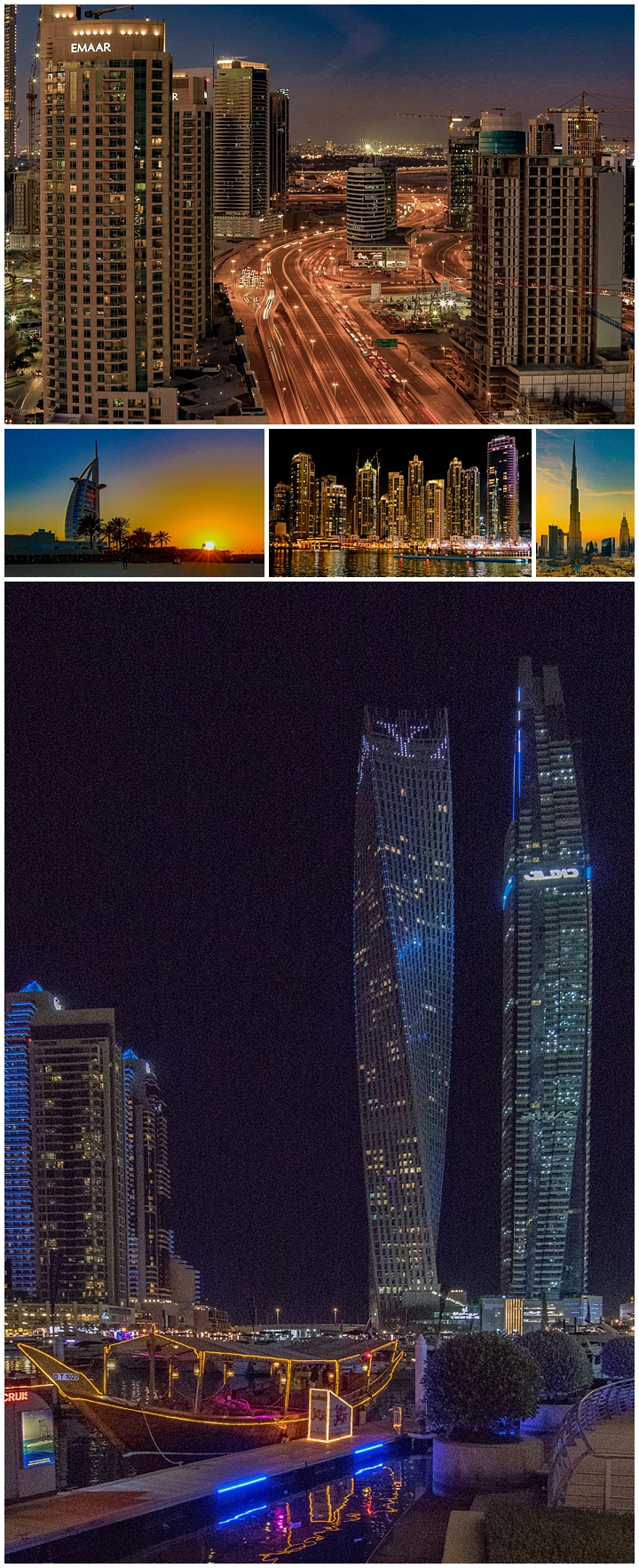 As the night fell, the lights of the buildings came on, giving the city an entirely different look.  The upper image was taken from our hotel balcony, while the lower one was at the Dubai Marina. Another iconic building in Dubai is the Burj al Arab, which is shaped in the form of a sail (middle left), which we enjoyed at sunset.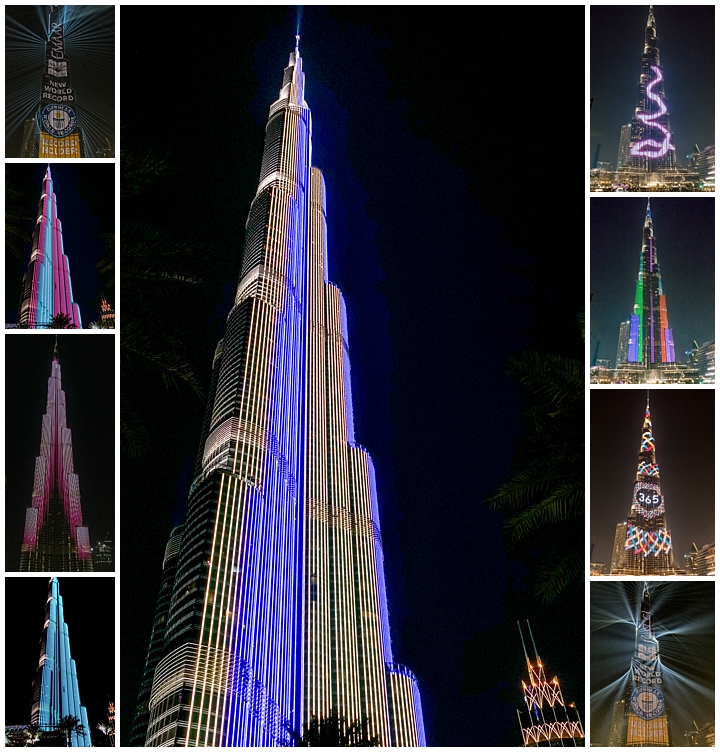 Surprisingly, very few locals seemed to know the details of the nightly Burj Khalifa light show.  This was created for New Year's Eve last year, and originally scheduled to end in January of this year. We had heard rumors of such a show, and asked various hotel concierge, waiters and guards, but no one seemed to know, though one insisted it would not be on Monday nights.  We were therefore surprised when the music started, and the tower began to light up, as seen above.
On weekends, there was an even more elaborate light show, that almost none of the locals knew about.  Evelyn was having dinner with her sister at a restaurant across from the Burj Khalifa, and the waiter told them to wait until 10:00 PM for the grand show.  Sure enough, a far more elaborate light show started, as seen upper-left and lower-right.  Evelyn's iPhone captured those laser images.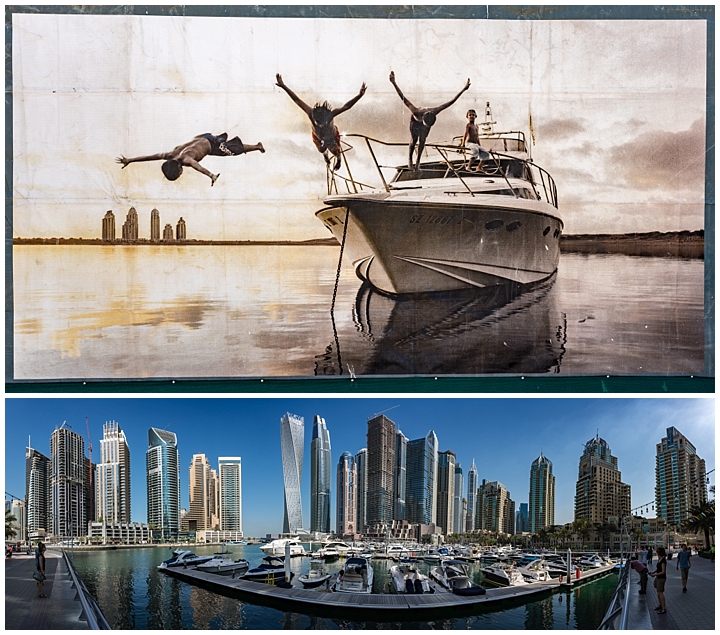 Along one construction wall are a series of historic photos.  Above is a scene that not only captures some kids having fun off a boat, but also shows the Dubai skyline as it existed in 1990.  The entire city was comprised of only five highrises, plus many older single story homes.
In 1989, the government of Dubai decided to create the city you see today.  Every building you see on the skyline of today (lower) was built within the last 25 years!  There is still construction going on everywhere, and they seem nowhere near done.  The city government has long term plans to complete all major construction by 2021 though, so the pace may slow down soon.There are more than 1500 skyscrapers now, and more on the way.

This is a rather long 3:20 video, which shows the entire laser light show that was first shown New Year's Eve from Thursday to Saturdays. "Light Up 2018" Laser Show set a world record for the largest light and sound show on a single building, the Dubai Burj Khalifa.
It caught us off guard, as nobody seemed to know the details. We were told this show would stop being shown by the end of March, so were glad to catch it while still active.
Here is a shorter 2 minute video showing the "standard" light show of the tower.
If you visit Dubai, we highly recommend contacting Dubai 1 Tours, led by Barti Rajan, who can be contacted at baree@hotmail.com or info@dubai1tours.com, URL: dubai1tours.com. He offers customized tours, like the one we took, as well as unique pre-packaged tours to see the camel practice facility.
---
---