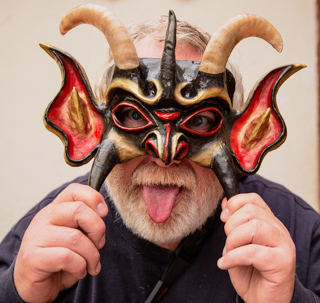 How do you like my new profile image? My mother often described me this way when I was younger. Seriously… I'm thinking about using it… ☺
The day after we attended the Mama Negra festival  in Latacunga, we headed towards Baños de Agua Santa, Ecuador. Enroute we stopped at a taller (workshop) specializing in making paper mâché masks for the annual devil's parade in January.  We didn't really expect to be too excited about Yet-Another-Mask, but these really caught both our fancies. We ended up buying three of them!  Esteban Arevalo struck gold again, by taking us to a place we would not have even visited on our own — and that we fell in love with!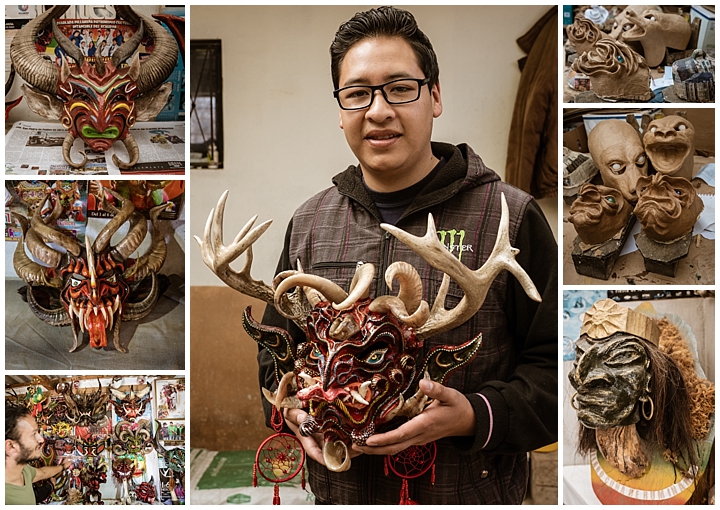 The workshop, Máscaras de la Diablada Pillareña Velasco, is rather small, but filled with the most amazing devil / demon masks you can imagine. Luis is the master craftsman behind all of them, which has been part of a family tradition.  All the masks are made of paper mâché, with authentic and elaborate horns, feel quite durable and ready to stand up to extended dancing at the parade.
Ours will find places on our walls, with two to be brought down annually for Halloween parties.  We finally have a mask suitable for such occasions! ☺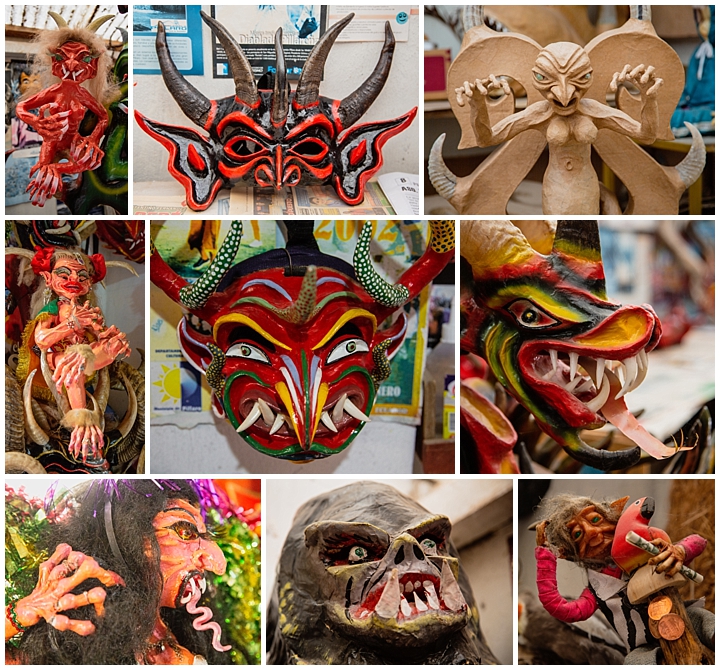 The shop has more varieties of devils, demons, and even leprechauns. Yes, there are tales of leprechauns in Ecuador. To top it off, Luis will customize any mask for you, sized for your face (or wall) and with any design or color variation you want within two weeks of your order.
After leaving the shop, we went to Baños and checked into our hotel. We then quickly made a bee-line to the swings at "Casa de los Árboles" (Tree House). We took turns swinging over the abyss below, and of course, throwing our arms wide to demonstrate our hands-free balance. I was practicing videoing Esteban with my drone (center photo). There was one young girl also giving it a try, and always looking back to her father for a cell phone photo op (lower-right).
At one point, the unofficial "aerodynamic engineer" (a staff member)  provided some extreme and fanciful assists to help us swing higher (upper right).  He became a sight to watch all by himself.
After we caught our collective breaths and teetered down the path to the car, we headed towards the Pailon del Diablo waterfall (Devil's Cauldron).  There are stairs that lead down to the base of the stairs from two directions, and never the twain shall meet. Turns out each is owned by a different owner and they are feuding, so the two stairs do not meet.  The most elaborate and famous is the one seen in the upper-right and lower-right images.  I flew the drone here for half an hour (one battery charge), then we headed back to Cuenca.
On the way home though, we saw that the Chimborazo volcano was clear of clouds.  That is very unusual, since the mountain is usually completely shrouded.  We pulled over to the side, where Evelyn shot the image on the left above (my camera is seen mounted on the tripod, creating a time lapse of Chimborazo).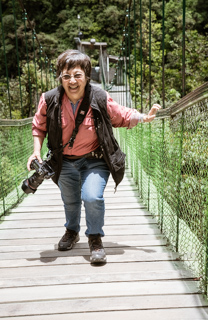 To cross the chasm to the lookout where I flew the drone to video the waterfall, we had to go over a wooden suspension bridge. Here Evelyn is crossing the river.
Here is the result of the time-lapse created from 900 images shot over the space of an hour.