Iranian Local: Why are you photographing this building. It is "just there" and nothing special.
Me: It is a beautiful building. (I show him the LCD from my camera of one of the images above, and he gasps in surprise).
IL: But still, why photograph it?
Me: To show my friends how beautiful Iran is.
IL: But why not just bring them here in that case?  (Discussion continued, but he could not understand that it was expensive for a foreigner to come to his home, which he could drive to in an afternoon).
Forget most of what you think you know about Iran, and join us for the next two weeks as we explore the country.  As expected, it is beautiful and has a long history.  What we did not expect was the extreme openness and friendliness of the people. Everywhere you look, people are smiling and apparently happy.  When they discover we are Americans, the response is always (without a single exception) joy at meeting "their first American" and a big welcome to their country.
The building in our first story-block above is the Azadi Tower, built in 1972 by the last Shah of Iran, to celebrate 2500 years since the founding of the Imperial State of Iran (which ironically, came to an end 7 years later when the Shah was deposed).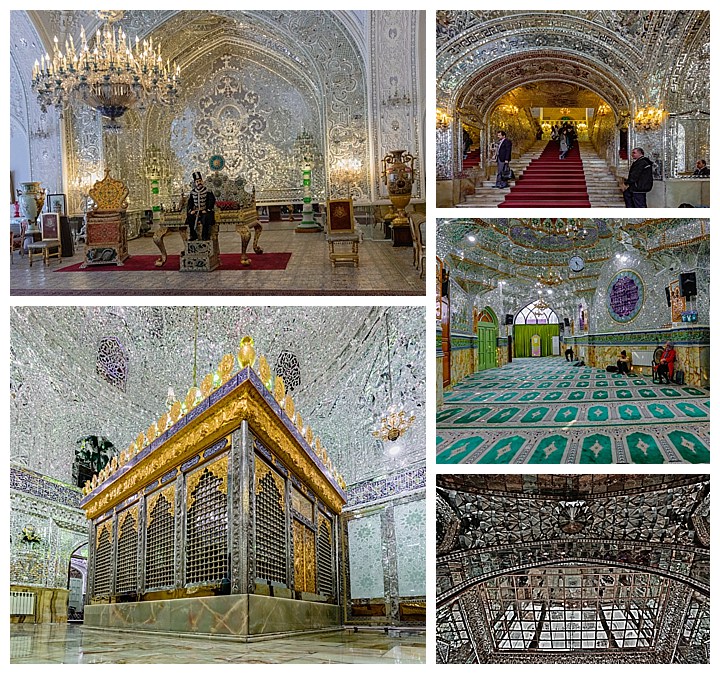 We soon discovered that Iran went through a period of fascination with mirrors in their history of mosques and mausoleums. These were interesting to look at, but very hard to show in photographs. Above is the Mosque and Mausoleum of Imam Zadeh Zayid, with his body enclosed in a mirrored chamber (lower-left).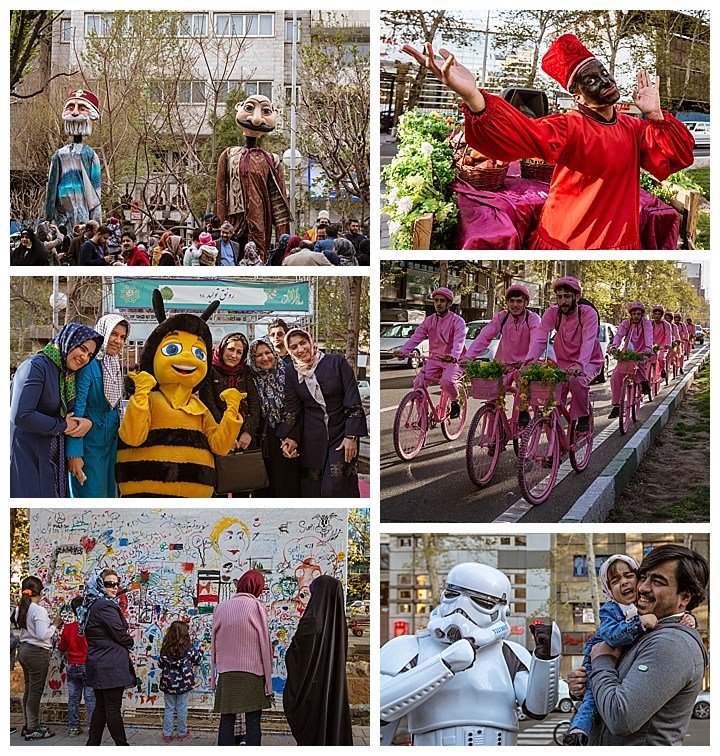 As we arrived in Tehran, there was a street fair in the median of the road in front of our hotel. This was the end of Iran's New Year's festivities.  There was a group of 15 people dressed all in pink, riding pink bicycles around the area (middle-right), who turned out to be promoting a new bicycle rental business in town. There were mascot-sized men in costumes from local TV programs getting their photos taken (middle-left). There was an Iranian version of Santa Claus (the black face and red suit upper-right), and a kids' drawing wall (lower-left).
There was even a Storm Trooper from Star Wars.  When one father handed his child to the trooper, the child started crying… obviously he knew that Storm Troopers were the Bad Guys! ☺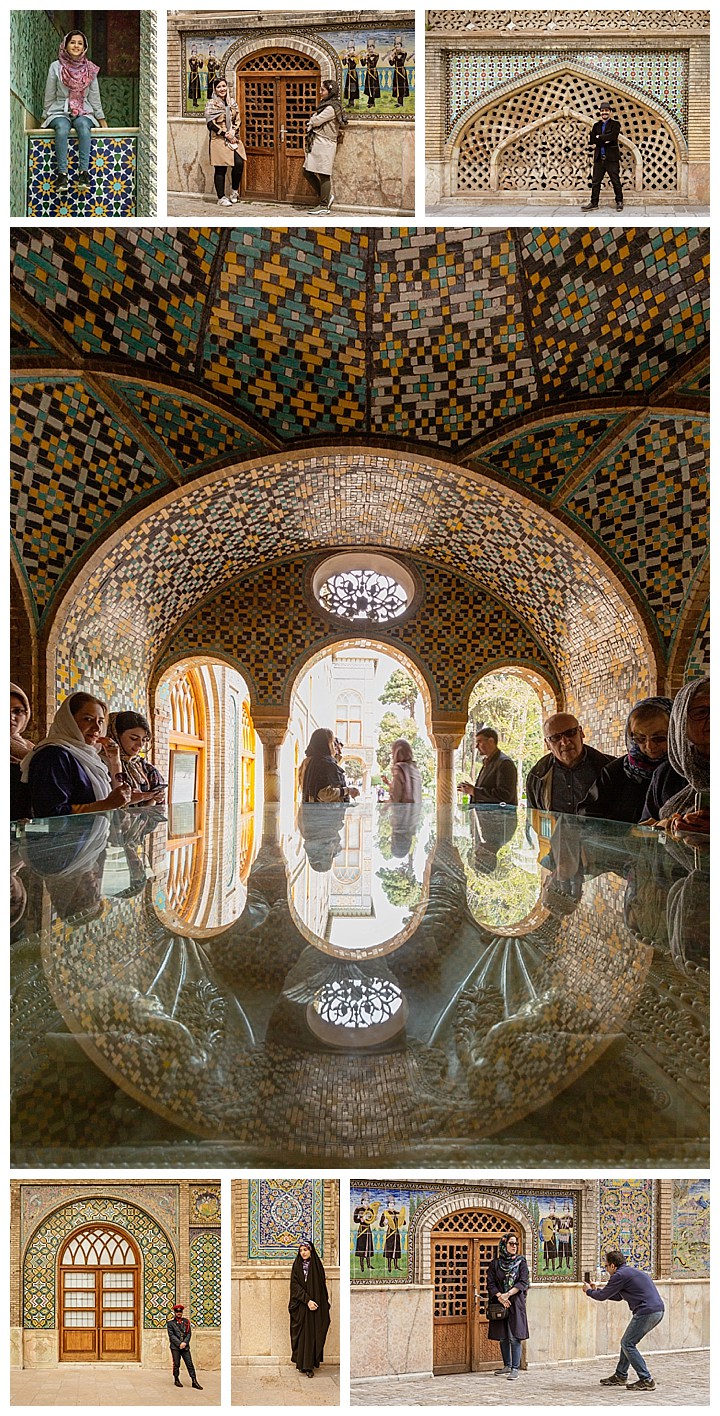 We visited the Golestan Palace while in Tehran.  Inside were some rooms almost completely mirrored.  Walking around was our first experience with the local Iranian people, and began to be surprised at their willingness to have us photograph them, and their eagerness to talk in English to an American.
We briefly visited an archeologic museum, which did have some interesting displays.
When we went to an exchange booth to convert dollars to Iranian Rials (IR), we were shocked. When we handed the teller $200 USD, he returned 27 Million Rials to us! (upper-left).  Devaluation of the currency has been extreme, but more on that later.