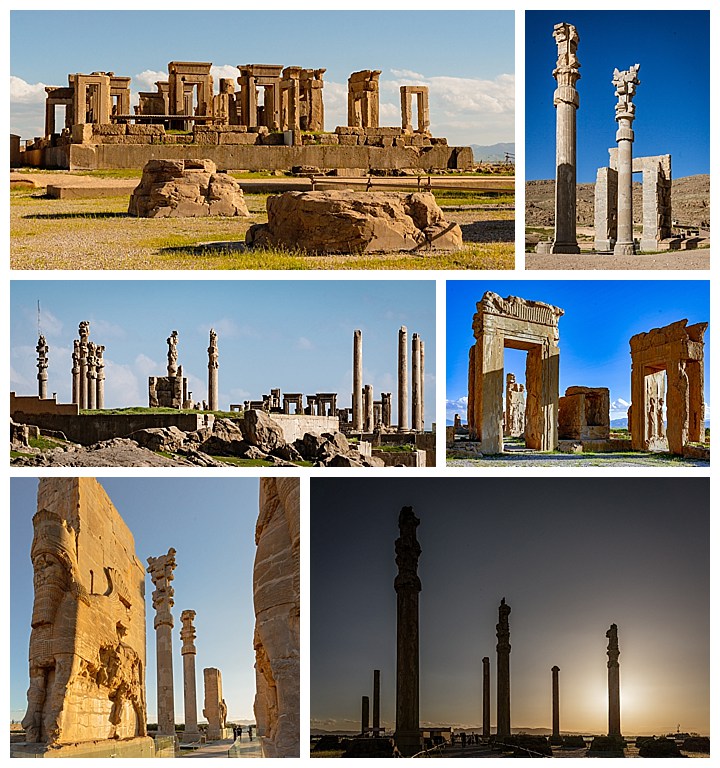 Iranian Local: What do you do? (he meant as a job)
Me: I am retired.
IL: Are you unemployed?  I am sorry to hear this.
Me: No, retired. I worked for 45 years, and can now enjoy my life without having to work any longer.
IL: But you are not old enough to retire! (discussion continued, where he guessed I was 50.  When I told him I was 69, he said that was the age of his grandfather, who could barely walk at his age.)
A major stop late in the afternoon in Shiraz was to Persepolis,  a UNESCO site dating back to 500BC.  This was the capital of the Achaemenid empire for more than 200 years. The parks generally open after sunrise and close before sunset, so it's always a dilemma for photographers.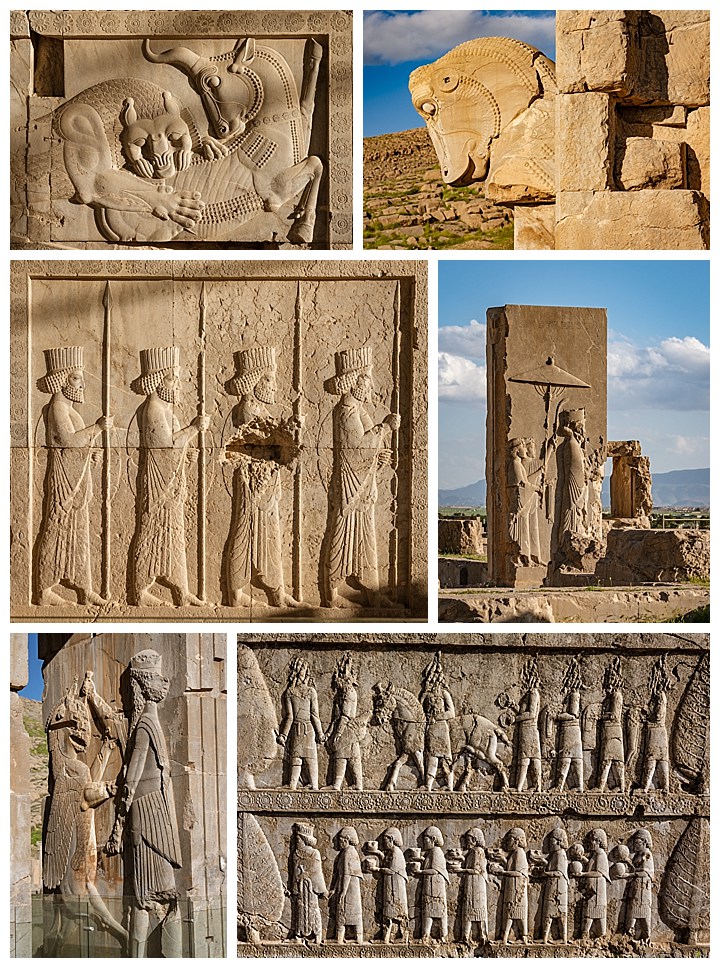 Probably the most fascinating part of Persepolis are the numerous bas relief images still in excellent shape, depicting life during the reign of the builders of this city.
It took quite a lot of negotiating by both our guides to get us into the Holy Shrine of Shah Ceragh.  This was described to us the Iranian version of Mecca, and is considered one of the most holy mosques in the country. (Read the linked Wikipedia site for the lengthy explanation of why.)
Though initial negotiations included getting a license to bring our cameras onto the site, that was rejected upon arrival. (In other words, just as in Ecuador, anything can change at any time…) Further discussions between Saba (our Iranian guide) and the religious leaders resulting in our being able to use cell phones, but no other cameras.  This was actually a major concession, as the Iranian people themselves are not allowed to photograph inside the walls of the shrine at all.
The last nomadic tribe of Iran is called the Qashgal. We had a chance to visit with them this afternoon and join them for lunch. We watched as they made carpets on their loom (middle-left), made bread for lunch (middle), demonstrated how to make doogh (a thirst-quenching yogurt drink spiced with mint), stoked coals for a hookah (lower-right) and then smoked it (upper-right).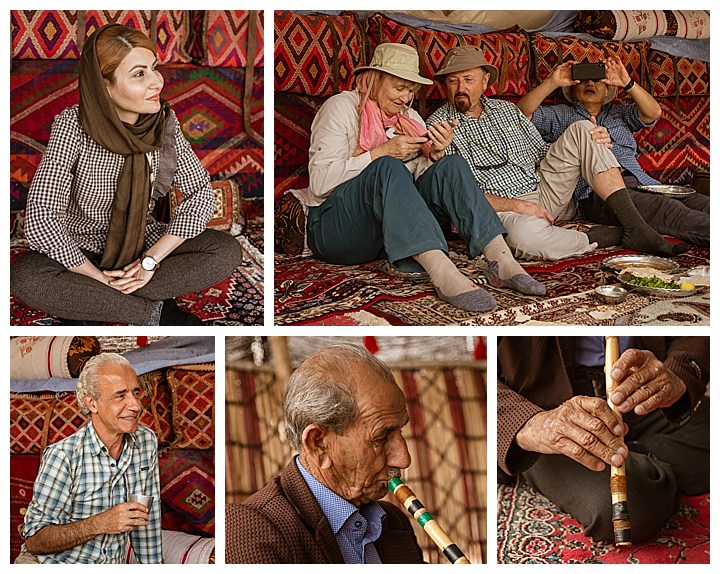 We all sat on the floor of the nomadic tent, first sharing tea and eating our lunch. A local tribesman then arrived to play his instrument for us (lower-middle and lower-right).
Upper-left is Saba, our Iranian guide.  Below her, in the lower-left is Mehmet, the tour organizer and guide (and the man we followed in Turkey, Uzbekistan, Sri Lanka and several other countries). Gabriel, Michel and Tim (upper right) are all ready for lunch. As typical of Iranian meals, by the time we finish with appetizers, we're generally too full, but continue to overeat out of politeness to our hosts.