We are back home, and loving it! Yes, the travel was fantastic. The places were fantastic. The people were (mostly…) fantastic.  But our own beds and showers are more welcome after a long trip like this.
After 10 weeks covering 6 countries, we did so much that it is hard for it not to start to blur together. We therefore decided to write one last "summary blog"  to bring it all into focus. For this post, we have tried to use all new photos that have not yet been shown.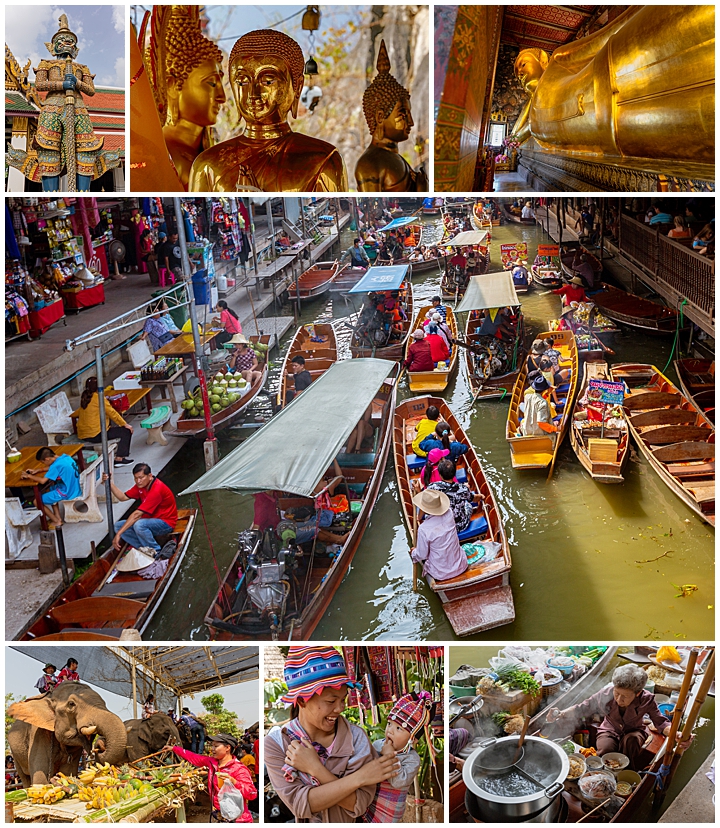 This was our third time in Thailand. It was initially added to this trip when we discovered that a friend of ours had gotten a short term job in Bangkok and we decided to join her.  We then decided to extend the trip further by joining an "off the beaten track" tour of Thailand, which we enjoyed thoroughly.
Though we went in March, the weather was already hot and humid. Whenever we commented on that fact though, we were told how cool this was in comparison to the months to come! While here, we used almost every form of public transportation the cities have to offer — sky train, tuk-tuks, buses, ferries, long tail canal boats, normal taxis, and pickup truck taxis with bench seats in the back.
We often enjoy watching and meeting the people, and Thailand provided that. We enjoyed the many floating markets, to the dawn markets where monks blessed the vendors in exchange for donations of food, to the multiple night markets. The exotic temples always stimulate our visual senses too. Then the unexpected "elephant buffet" (bottom-left) that we stumbled upon added one more treat.
Thailand is often called "the land of a thousand smiles," and there is good reason for this.
Sri Lanka was on our list of destinations we wanted to visit, in order to see the "stilt fishermen," (upper-right and lower-left). This way of earning a living only exists here, and is quickly dying, even more so after the tsunami of 2004 destroyed the fishing, which is only slowly returning.  We also enjoyed seeing the working water buffalos (lower-right). Once Mehmet of Fantastic Photo Tours told us he was setting up a scouting trip, we instantly jumped at the chance — we have gone with him previously to Turkey, Uzbekistan, Armenia and a host of other countries in the past.
Unfortunately, two weeks after we left, terrorists bombed the very hotel and restaurant that we had used for three days. We feel bad for those on the island depending on tourism. It is their livelihood that will most be harmed by these developments.
Iran was by far the biggest surprise for us. We went primarily because Mehmet (the same guide we used in Sri Lanka, Turkey, Uzbekistan, etc) was setting up a trip. We knew he would make it a unique photo tour because he always includes a mix of architecture, landscape and people, and we were completely right in that regard.
However, we went in with preconceptions of the Iranian people. We thought they would be dour, religiously conservative, afraid of foreigners, angry at Americans.  We were wrong on every count.  We were met with open arms everywhere we went. Barely an hour would pass without someone coming up and asking, in broken English, "where you from?"  When we replied "America," the response was instant and universal — arms would throw wide and with a big grin, the Iranian would shout "welcome!" (usually followed with "you are my first American!")  Politics only came up in conversations a couple of times, and the people always blamed the Ayatollah and Trump equally, saying things like (one quote) "Americans are good. Iranians are good. All people are good. Ayatollah is bad. Trump is bad. Why won't governments leave us alone?"
The country is photographically rich, and full of ancient history.  This is a place that anyone interested in architecture, history, or just seeing what the "rest of the world" is like, should visit.  We can only hope that "those governments" do not continue to play chicken with this part of the world.  Only the people are hurt by government belligerence on both sides, while the bureaucrats remain mostly insulated from the impacts.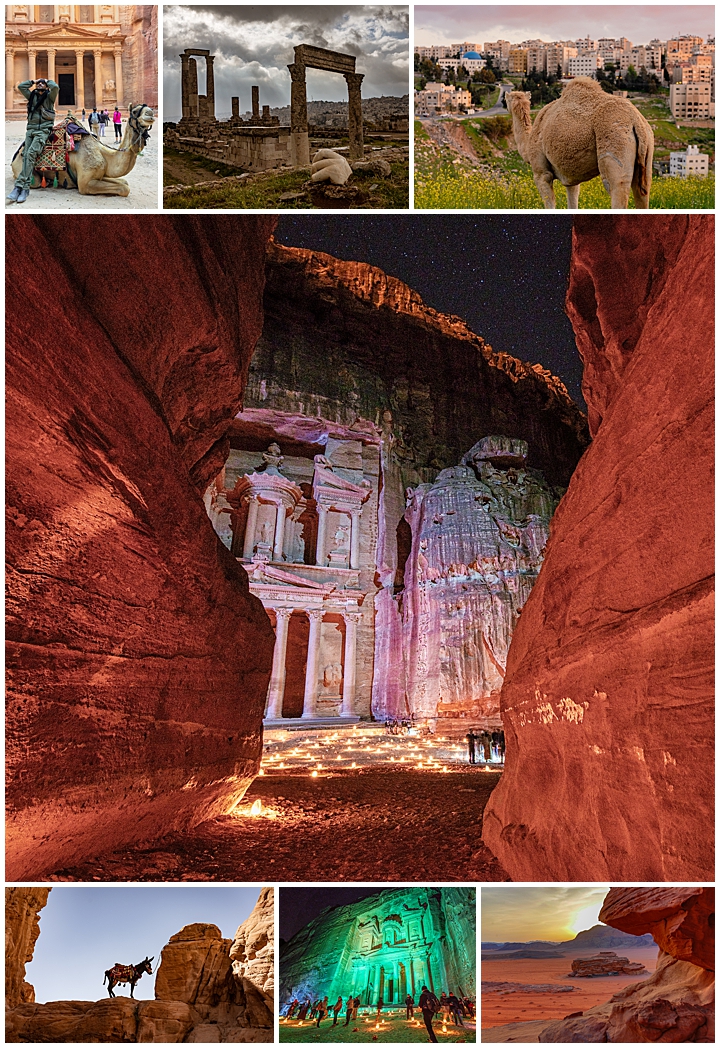 Petra is one of the Wonders of the World (center) and has been on our bucket list for years.  It is massive, well preserved, and looks like a scene directly out of an Indiana Jones movie (where it was actually used as a backdrop in one scene).  The long hikes in, and the treacherous donkey ride we took one day to reach the Monastery will assure that Petra remains in our memory for years to come.
Unfortunately, it resides in Jordan, which is a part of the world we have mostly avoided until this year, due to political instability.  While here, we never really experienced any concerns for our safety… except for one brief exiting moment when we visited Petra the last time for a night show, and there was a bomb scare! There was no bomb, and the stories surrounding what really happened are numerous, but how quickly the crowd panicked underscores the tensions of the Middle East. We were very glad we had the chance to visit Jordan during a period of relative calm.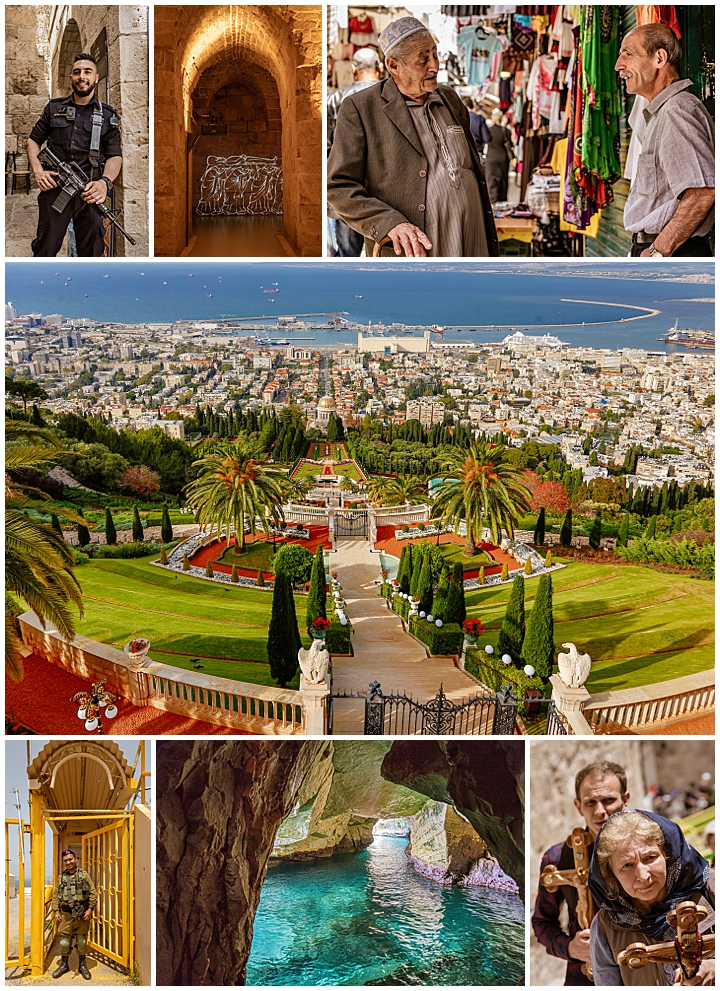 We usually try to avoid holiday peaks in our travels.  With this many countries, and with some fixed on the calendar by tour schedules, we found ourselves in Israel during Holy Week (aka Easter Week).  The crowds may have been a factor, but we were surprised to discover just how unwelcoming a country Israel was for us.  Just as Iran surprised us by being more open than expected, Israel surprised us by being more religiously zealous and unfriendly than we had expected.
Evelyn worked on a project in Haifa (center) in the early 1980's and was happy to have the chance to see both the finished plant and the city where she had worked remotely. Our biggest memories though, will be the extreme security (more checks of our passport to enter Israel than in any other of the 82 countries we have visited, plus heavily armed military everywhere we turned) and the massively greedy, racist tour guides we had for Jerusalem and Bethlehem.  Unfortunately, this colored our memories of the three days we spent in this country.
Also, within a week of our departure, reports of more than 250 rockets fired into Israel, and the responding airstrikes lead the news. This is not a part of the world we are likely to return to soon.  As one of the Iranians we spoke to said "If there were a god, there would be no Middle East."  Unfortunately, events almost every day seem to bear out that sentiment…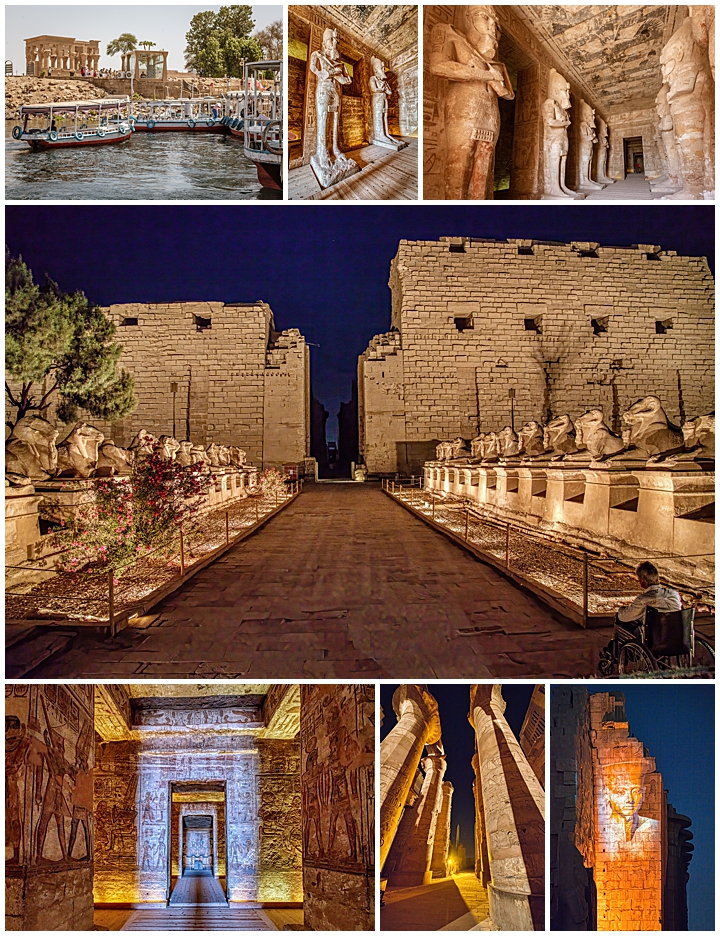 You have probably seen photographs of the pyramids since you were a kid. National Geographic had them on the cover in February, 1982, burning that image in my mind ever since.  As it turns out, that image was faked…! ☺
Nevertheless, this is a part of the world we have long wanted to see, but have mostly stayed away from due to political instability. This time we found ourselves already close, and flying from Cairo to New York actually saved quite a lot of money.  Case made. Time to visit!
We started in Aswan, in the southern part of Egypt.  We loved the tombs and temples of the area, and gawked as we tried to take in the immensity of the temples and the level of preservation.  The desert had swallowed most of these by the 6th century, and they were not rediscovered by archeologists until the 19th century.  The result was that they were mostly intact, unharmed by centuries of war and religious fervor that often desecrated sites not celebrating the current god being favored. We had the feeling that we were walking through a Disneyland recreation, because it just seemed "too good to be true…"
When we made it to Cairo and the pyramids themselves, it was a bit of a letdown.  Cairo itself was filthy in a way not seen in the south of Egypt, and only expected in the poorest of the third world countries.  Then we were hit with a mild sandstorm that filled the skies with a brown layer looking very much like industrial pollution.  Those skies became our backdrop for the pyramids, making them almost disappear into the backdrop scene.  Fortunately, some later Photoshop work brought them more to life, and to the appearance we had expected and hoped for.

The official trip was over, and we were on our way home.  Sigh.  The long airplane flight from Cairo to New York was going to take a full 24 hours, no matter how we planned it.  The airline schedules just did not line up to make for a shorter journey.  Settle in and accept it — pretty much the only way to survive these trips.
But wait! A friend told us that the Istanbul airport had a fabulous VIP lounge if you flew Business Class (which we did). Checking the various options, it turned out that the 10 hours in Istanbul was barely longer than any other layover… and it was the cheapest route too. Well, gotta go try this new lounge then, don't we?
Oh my.  What can I say?  Not part of the original plan at all, but was worth being a destination all to itself.  Only open for a month at the new airport in Istanbul, it was fully ready for all services. Want a massage? Free, from a roaming masseur.  Want some gourmet food? Your biggest problem will be deciding which of the dozen chef stations to choose from — each was over-the-top delicious.  Want some liquor or soft drinks?  At least half a dozen fully stocked stations around the lounge, with every kind of hard liquor (which I tend to avoid) and wine (which I tend not to avoid…) you could wish for. Bored and want to race cars on a mini track?  Yep, that was there too.  Want a shower or a bed? Yep, free.  Want to just relax on a recliner listening to world class concerts?  You guessed it, a room for that too.
Then add the fastest internet connection I have ever had (with the single exception of an American Airlines lounge in JFK airport in New York), and I was in heaven.  We were there 10 hours. No sleep for me though. Too much to do. Too much to see. Too many chefs to video (at some point, I'll tell you about my new video stock sales efforts).  Too much fast internet to… well, not use!  When our flight was called, I seriously wondered if we could just stay here another day and catch the flight tomorrow instead… ☺
When we did make it to New York, we spent a couple days with our friends in New Jersey whom we first met in Russia in 1992.  On our last night, in Manhattan, we saw Hamilton — a well done, high energy musical.  They deserved the standing ovation they received, though I must admit I was left a little surprised that it is still one of the hottest tickets in town (and the price reflected that fact).
And now… we are back home in Cuenca.  One more trip behind us.  One more set of memories to fix into our history as we complete these blog posts, and then add the photo gallery images.  And yes, we are already deep into planning our next trip, to start in just over a month. Stay tuned…!