El Pase del Niño Migrante Parade Cuenca 2018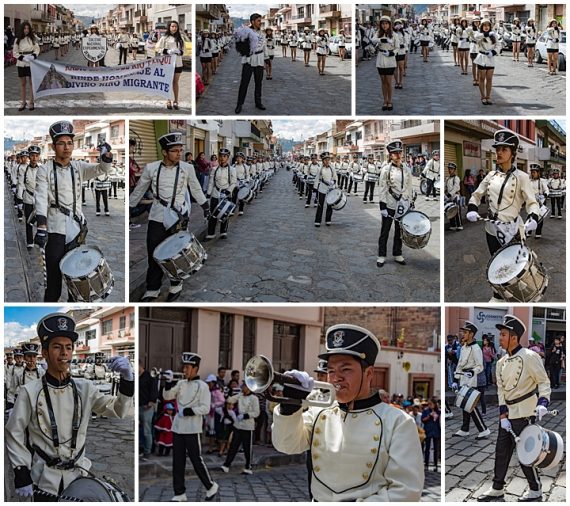 Yes, it's another parade. There are three large parades at this time of year, before Carnaval. The first was the Passing of the Traveling Child held on Christmas Eve (el Pase del Niño Viajero). The second was the Day of the Innocent's parade. The third is today's Passing of the Migrant Child.
Today was the ninth El Pase del Niño Migrantes parade in Cuenca.  This parade celebrates another baby Jesus doll that travels the world ("migrantes") and is brought back to Cuenca each year for the parade.  The 2-hour parade starts off with marching bands from the local high schools near Iglesia San Blas, traveling along Simon Bolivar to the new cathedral.  We can hear these drummers practice for weeks from our apartment before the parade, and they show the results of all that practice here, marching and drumming in perfect unison.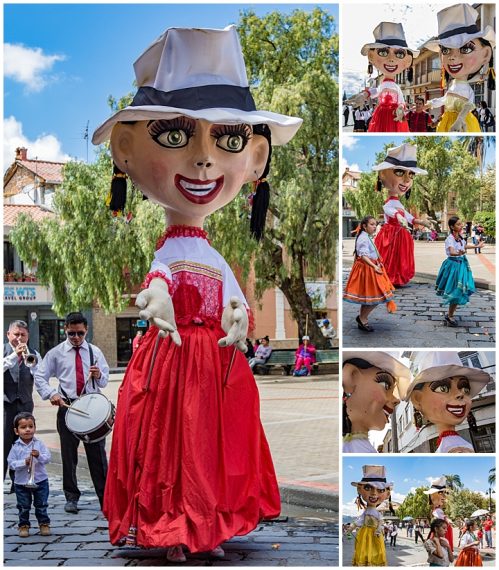 Behind the high school drummers come other groups dressed in traditional costumes of chola Cuencana, saraguros, cañaris and other local indigenous groups.  Also, these two giant dolls with people on stilts marching along and waving at the children in the audience.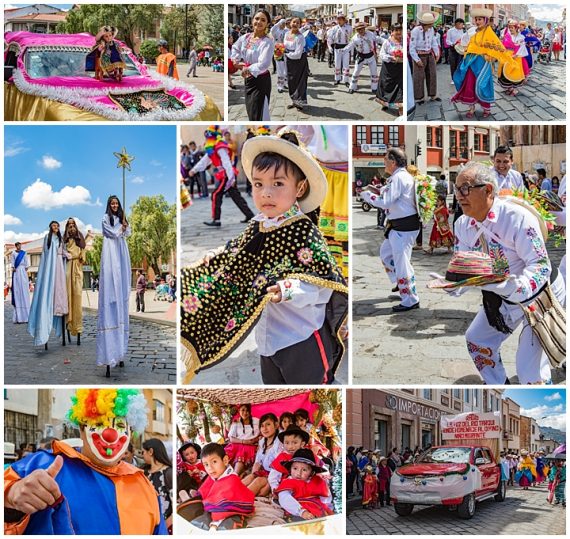 There were a few cars draped as floats, and several groups of dancers.  Behind the giant dolls shown above were also some young adults dressed as Angels walking on stilts (left-middle).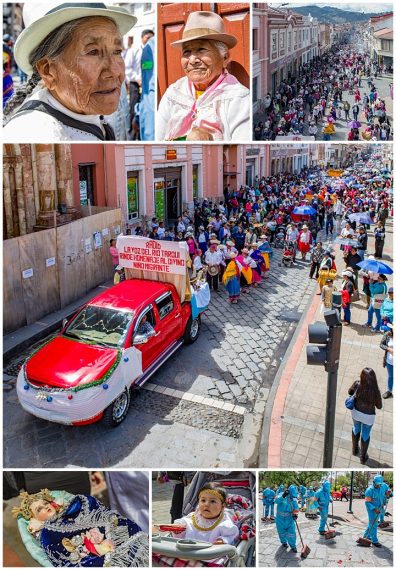 This year I put the drone up for a few crowd shots too (center and upper-right).  The streets of Cuenca are always amazingly clean -- all the more amazing when you consider how many parades there are in town.  Wait until the end of any parade though, and you will see why.  Each parade is followed by a small army of blue-suited cleaners that erase all signs that anything unusual happened within a couple minutes (lower-right).

Migrante Parade, Cuenca, Ecuador 2018 from Burt Johnson on Vimeo.
Here is a short two minute clip showing the nature of the parade -- both from the ground and from the air, via drone.
---
---