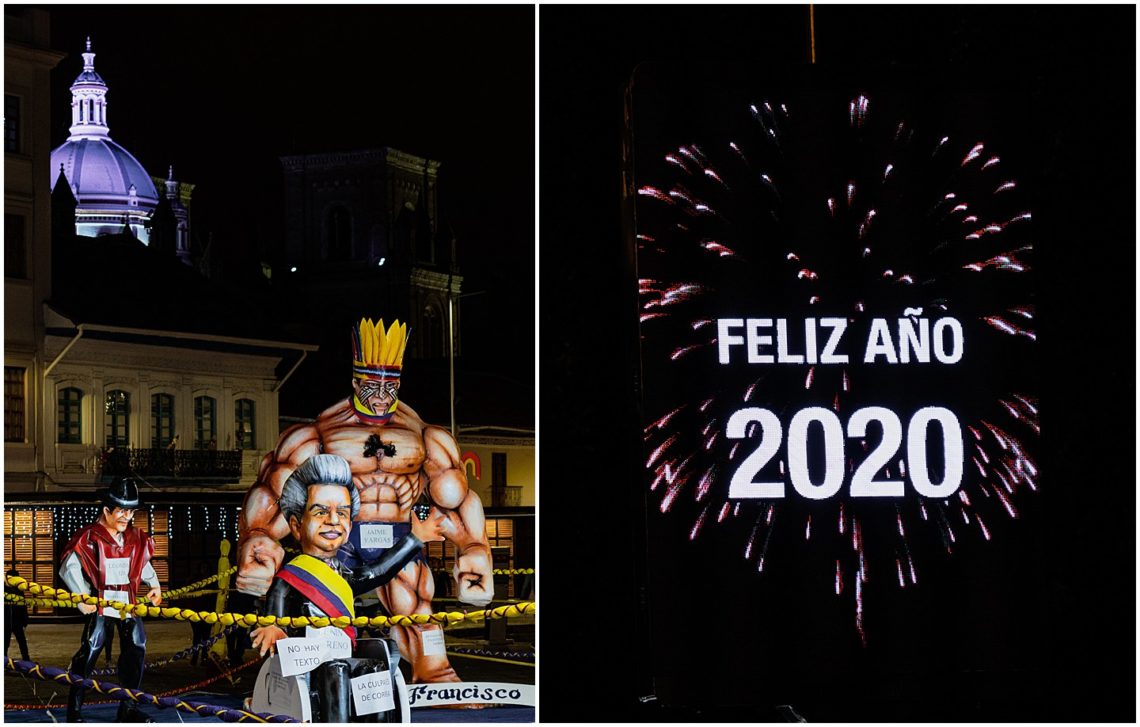 How can it be 2020 already? This was a date in the mist of the far off future. The one with flying cars, life expectancy extended to age 150, robots doing laundry, self-driving cars and permanent moon colonies. Yet here it is, and even more amazing, we're alive to see it! It's hard to imagine that this is the start of a new decade.
2019 was a busy year for us, and our travels took us to 11 countries, not counting our home here in Ecuador. We will slowing down a bit in 2020, and have so far only planned to visit 6 countries. In addition, we had three couch surfers visit us in Cuenca, including our favorite niece and nephew.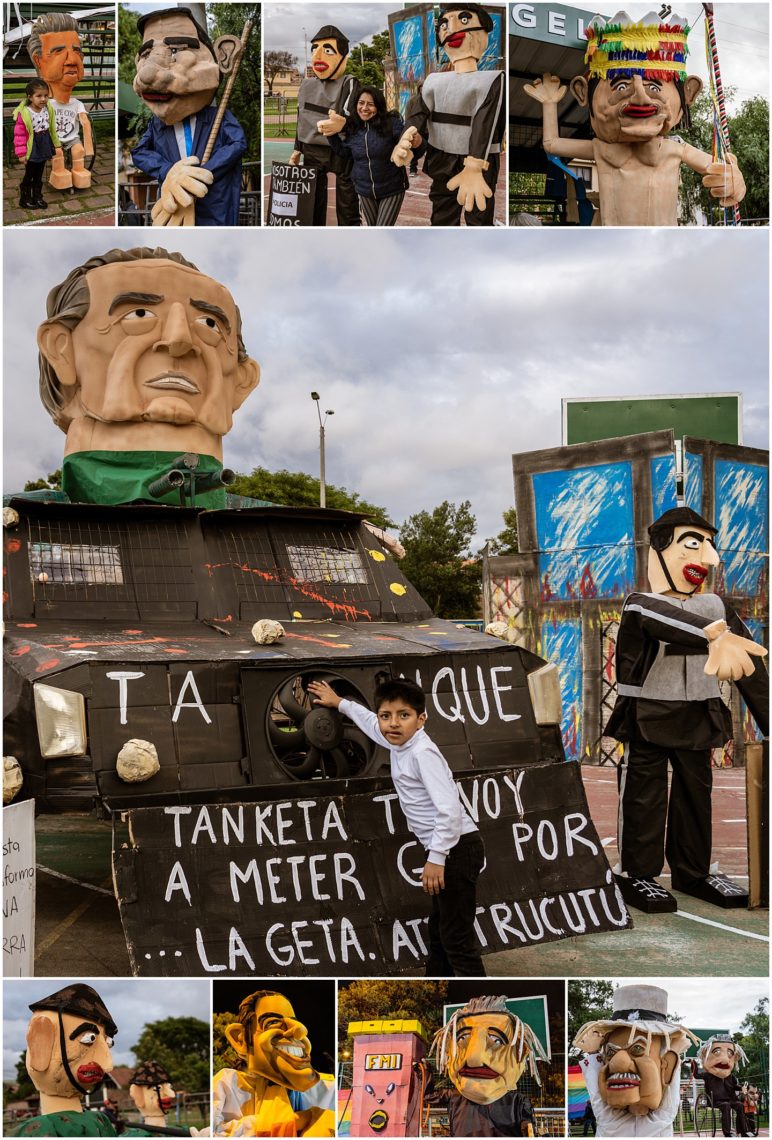 As has been a New Year's Eve tradition in Cuenca for decades, neighborhoods compete for prize money in a competition organized by the Amistad Club Cuenca (Friendship Club). This year, 27 participants created elaborate displays of paper mache and foam mannequins. We started New Year's Eve this year by hiking over to the El Vergel display. They have won first place with their displays for the last two years, and created a repeat performance this year, winning $3,000 for first place once again.
Their theme was "883," which is the number of the Executive Order that was intended to eliminate subsidies on gasoline, bringing the price to world market levels. This executive order was met with strong, armed resistance that essentially shut down the country for 10 days, until the president agreed to rescind the order.
Monigotes, or paper mache mannequins, representing the President at an evil gas pump (bottom-third from left), the head of the military in a tank (center), the head of the indigenous group that led the revolt (upper-right), and many other political figures involved with that failed attempt to fix the growing and unsustainable national debt.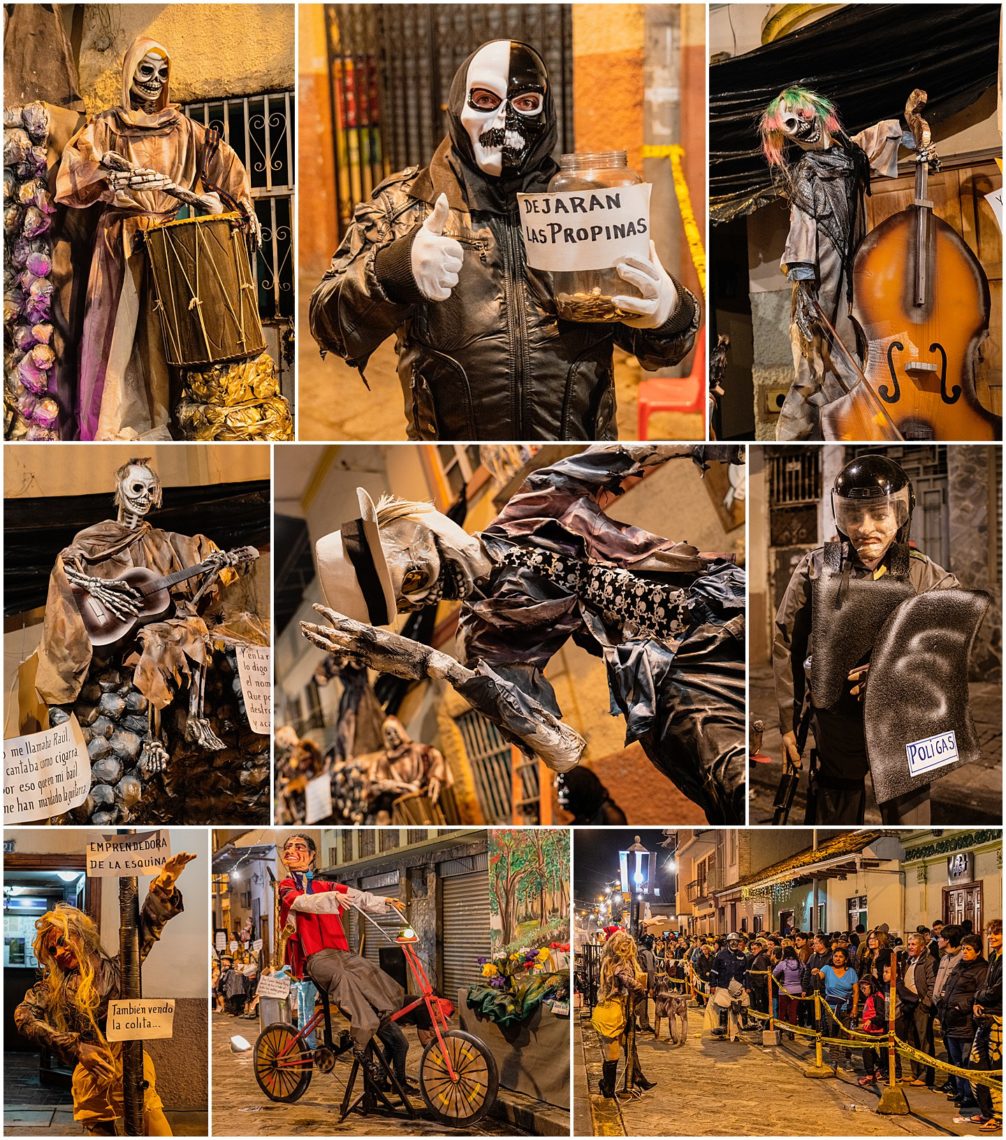 After dark, we started making the rounds of some of the displays in El Centro, the part of the UNESCO town where we live. One of our regular stops every year is the El Vado neighborhood. Their theme was mineral mining rights, for which they won 4th place for $1,000 cash prize.
Mining is a controversy that has existed for several years, but which came to a head in 2019. There are many illegal mines in the Ecuadoran Andes mountain region. Gold, copper, silver and other minerals are often mined in operations that are dangerous (there were several mine cave-ins that killed miners this year), and which pollute nearby rivers with toxic runoff. The government got serious this year, and closed many of these down.
At the same time, the national government was negotiating with major mining companies to come in and mine these minerals in a manner that would be safer, and perhaps more important to the government, would result in large tax payments. Several indigenous groups protested and took the government to court to prevent the mining, saying that the constitution guarantees that they have independent control over those lands. Towards the end of 2019, the Ecuadorian Supreme Court sided with the indigenous people, and have ordered all such mining to stop.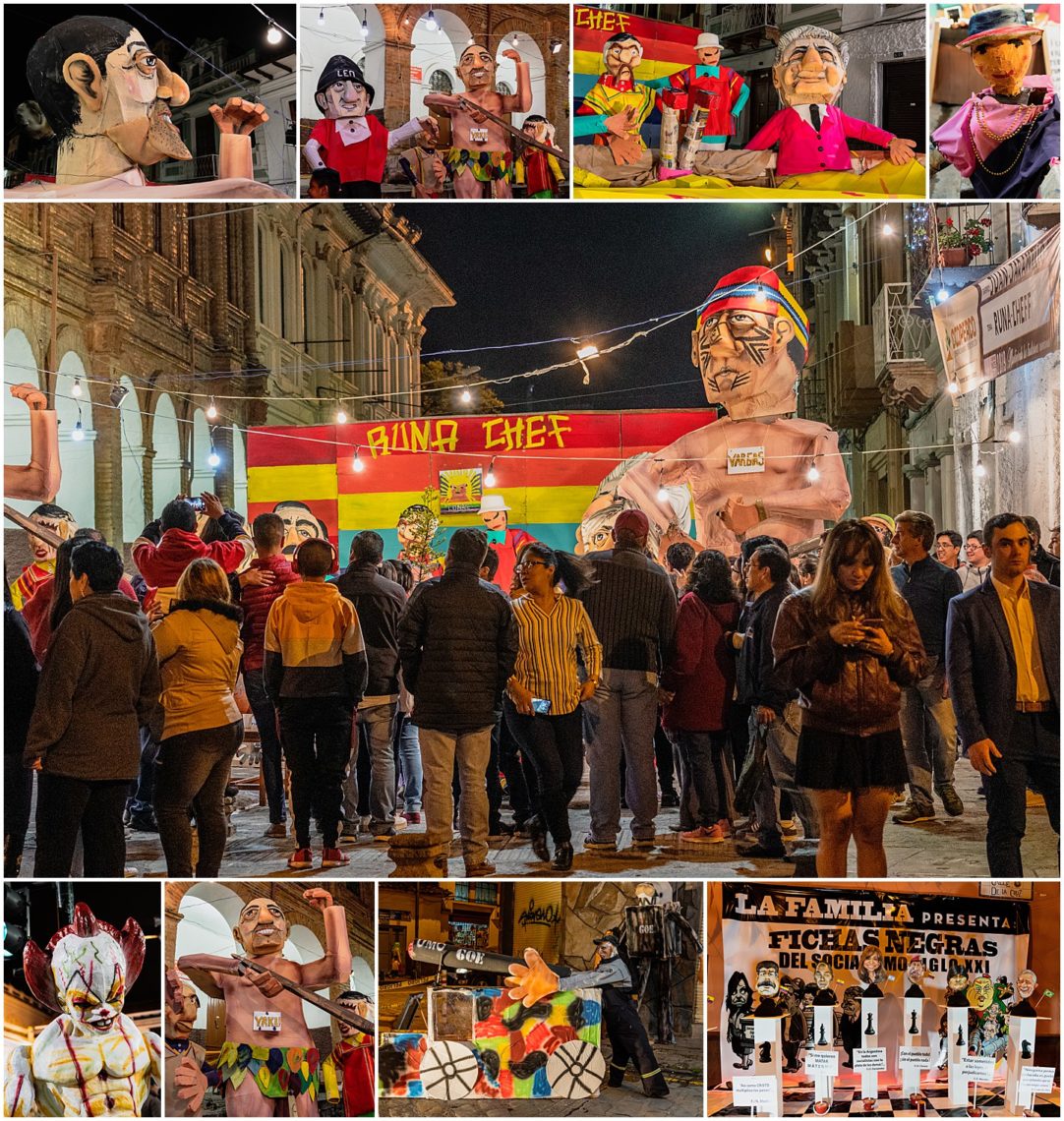 There were also several other smaller displays that we walked pass, including those on Padre Aguirre, Presidente Cordova and Juan Jaramillo. Many of these monigotes are huge, reaching 15 feet tall, as can be seen in the center image above.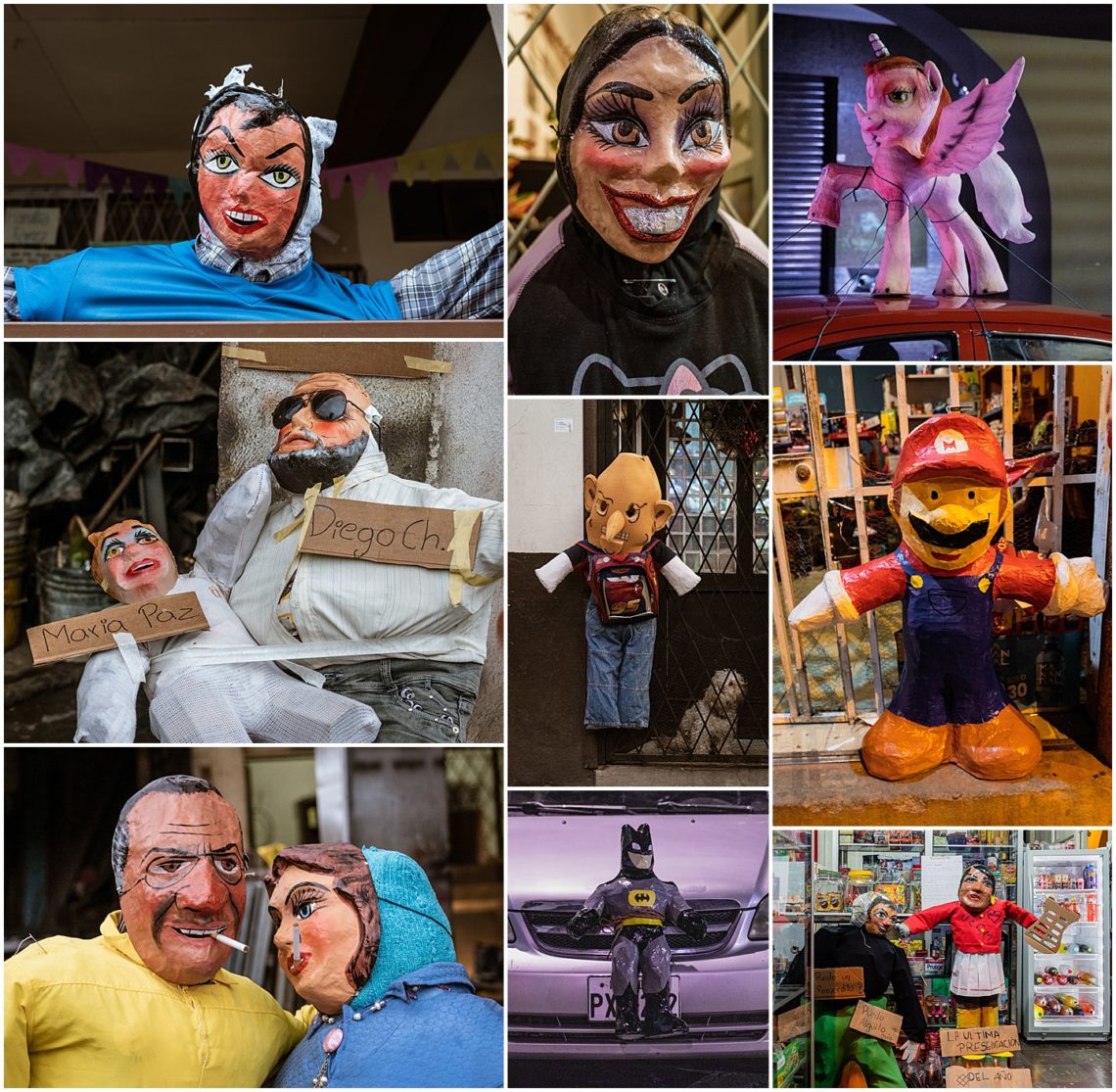 Besides the major competing neighborhood displays, many people have their own monigotes. When walking around town, you can see them in front of stores, or tied to cars cruising through streets. At midnight, the effigies are tossed into bonfires and burned.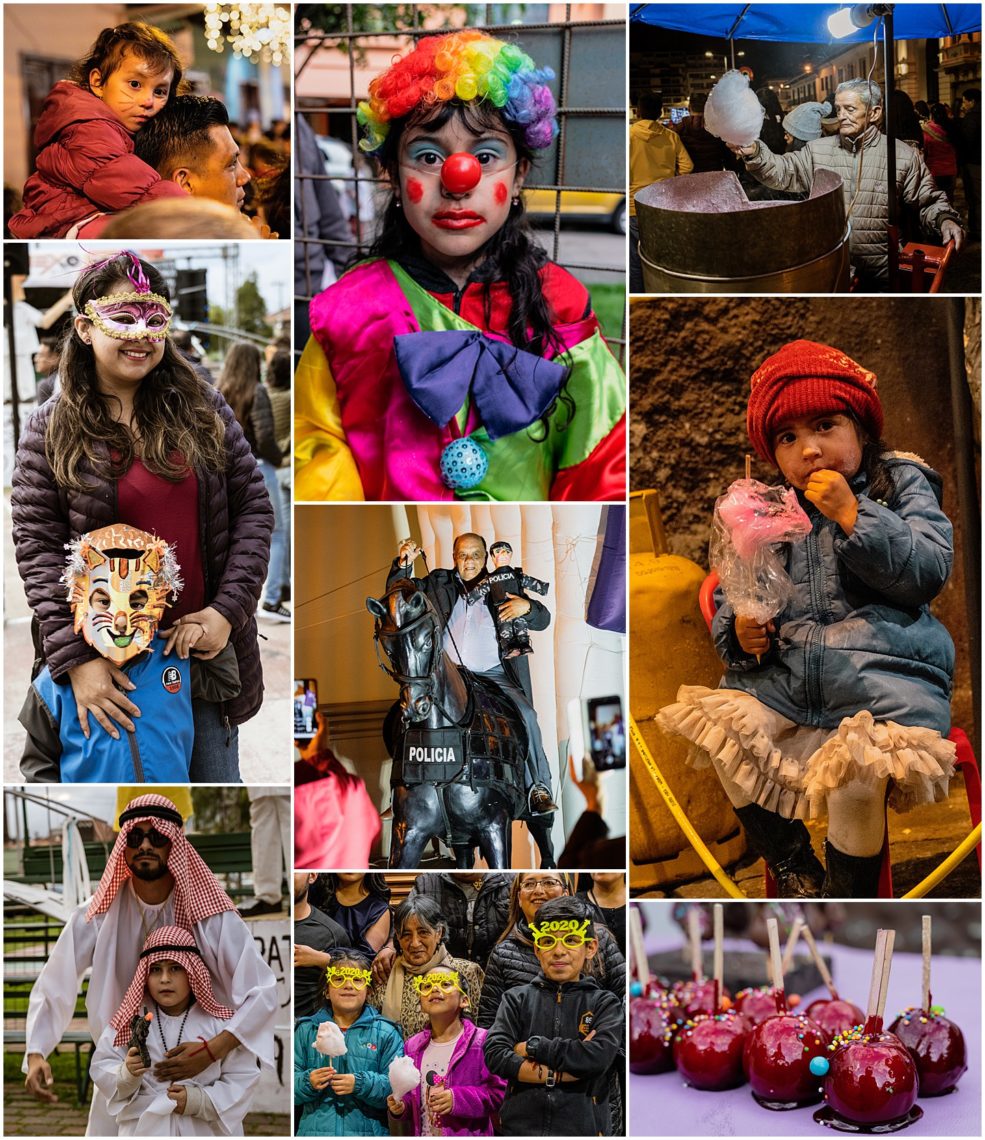 There were fewer people with masks and costumes wandering the street this year than in past New Year's Eves we have seen in Cuenca, though a few could be seen. There also seemed to be less street food for sale this year, though some sticky sweets still existed (upper-right and lower-right).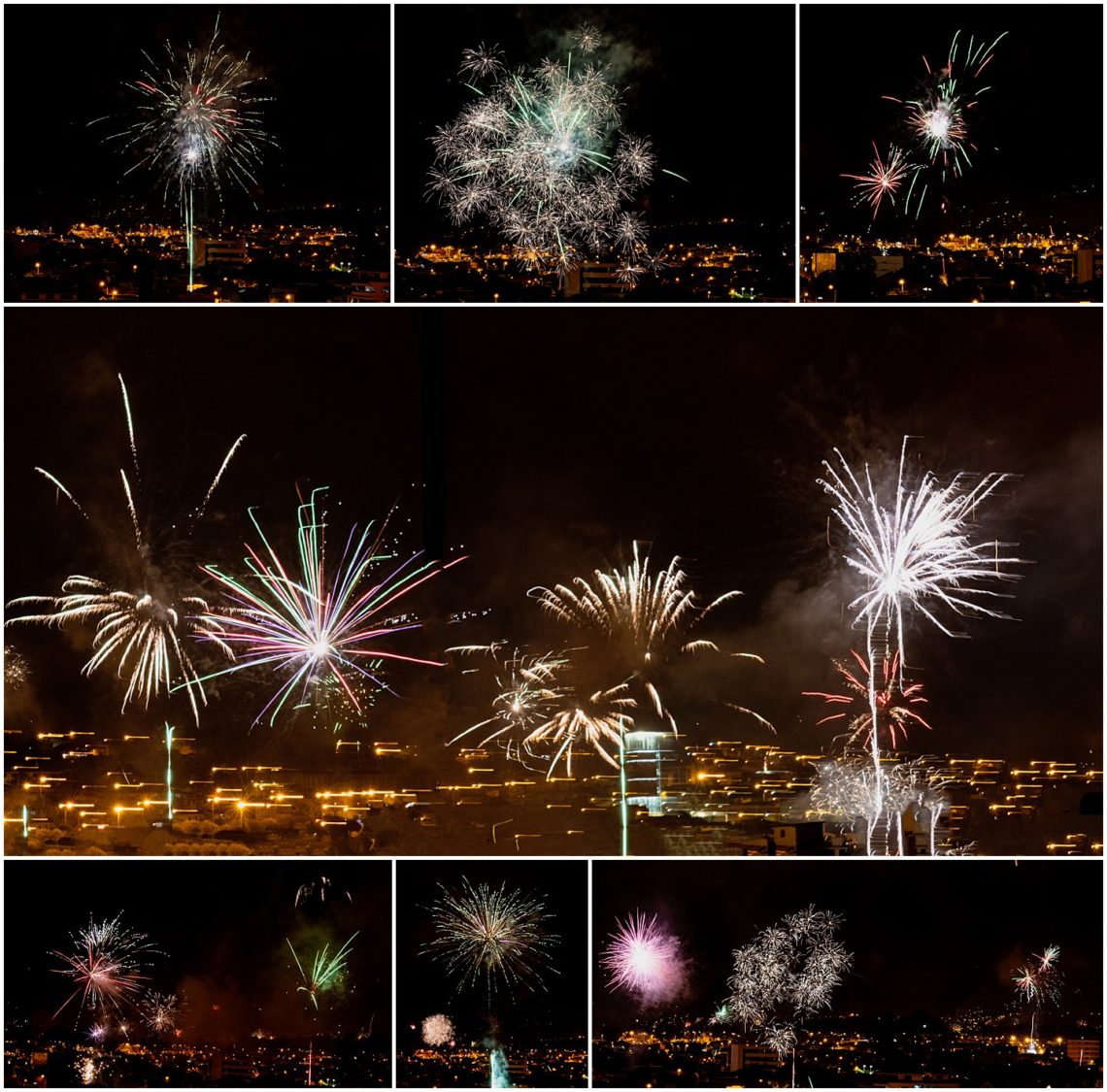 Two major activities occur simultaneously at midnight on New Year's Eve in Cuenca. The hundreds of monigotes around town are thrown onto bonfires and burned, symbolically leaving the woes of the old year behind. That is the event that we have focussed on in past years, and if you check the January 1 posts from 2013 through 2019, you will find lots of photos and discussion of that practice. (In the right column of this page, choose the desired month under the 'Archives' popup menu on a laptop.) Here's the direct link to last year's NYE blog, when we focused on the jumpers and bonfires at midnight.
The other major activity is fireworks. They are fired from several dozen places around the city. We see fireworks almost weekly from our apartment window. As such, we have never focused on the NYE fireworks. This year, we were invited to a friend's home, and spent a couple enjoyable hours with friends that had gathered there.
A little before midnight, we all climbed up on the roof, which presented a 360 degree of the city, with very little obstruction. I placed my camera on a tripod, expecting to capture a few photos for the blog. By 11:20 pm, multiple fireworks were being fired every minute, as if people were warming up by firing test shots. By 11:45, the entire city was exploding with fireworks all around us. We kept thinking "this must be the finale," only to check our watch and realize that it wasn't even midnight yet.
When midnight finally came, the entire city was engulfed in fireworks. The above images are straight-out-of-camera, meaning there is no composite combining of images. That center image really did capture all those fireworks from all those locations in a single 1 second exposure. There are many more like this, but to avoid an entire blog consisting of just fireworks, we chose the few here to give a sense of the scene. I had my camera set for single frames, so I did not catch any useful video. Next year, I am thinking of setting up two cameras, and let one just capture video of this chaos.
At El Vergel park, there was a children's playground. The kids were having a blast, not caring about manigotes nor fireworks. We stopped for a while just to watch them have fun.